Spring is in the air! With the sun shining, birds chirping, and flowers blooming, there's nothing like springtime in Austin.
What would make it even better? Crystal clear vision, thanks to LASIK.
Spring is the perfect time if you're thinking about getting LASIK soon. Spring only comes once a year, and you want to enjoy this idyllic time before those heat waves start rolling in.
If you get LASIK now, its quick recovery period means you'll have more than enough time to relax and enjoy your new vision before the temperatures heat up.
This year, say goodbye to winter and blurry vision. Keep reading for seven activities to warm up in Austin this spring after LASIK!
1. Immerse Yourself at Wonderspaces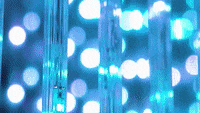 You should treat your eyes to exceptional sights when you have out-of-this-world vision, thanks to LASIK. Wonderspaces is full of them.
Step into a show that is more than a show: it's a fully immersive experience. Sip on a signature cocktail as you become dazzled by fifteen interactive installations, with new ones added regularly.
Without clear vision, this memorable experience can turn into a blur. The artists have put so much care and thought into their pieces, and with so many details to take in, you don't want to miss a single one.
After LASIK, you can see every incredible art piece in stunning clarity. There's nothing like experiencing art in 20/20 vision or better; this is the exciting new reality for most LASIK patients. Crisper, clearer vision that takes all your experiences to the next level is a great way to live!
2. Embrace Your Inner Tourist with a Duck Boat Ride
Have you ever tried being a tourist in your own city? You won't look at it the same way!
Unlock a new appreciation for Austin by taking a Duck boat tour. You'll see the State Capital Building, the Governor's Mansion, the University of Texas campus, Sixth Street, Congress Avenue, and the beautiful Lake Austin like never before.
Seeing these incredible sights is so much better when you don't have to contend with glasses fogging up or contact lenses getting too dry. Instead, you'll have the kind of vision that all your friends will be jealous of. Why?
LASIK corrects your vision so that it's better than your original prescription. That means you'll see better than you could when you wore glasses or contact lenses.
Noticing new details will help you see your city from the tiniest elements to the most vibrant colors. If you've ever wanted to see everything in HD, LASIK can help you!
3. After Your LASIK Recovery, It's Time for a Rage Room
Everyone has frustrations. Vent yours in a special room where you can smash the stress away.
Rage rooms are all the rage! Say goodbye to life before LASIK by bringing some old eyeglasses to smash. Say so long to the frustrations of glasses getting in your way while working out or accidentally breaking them after misplacing them.
Most LASIK patients can leave behind their visual aids and finally achieve visual freedom. Once you've had the procedure, you may start noticing almost instant improvements to your vision.
The recovery after LASIK is short and sweet, too, so you don't have to worry about an extended or drawn-out recuperation.
Whether you want to smash stuff, throw axes, complete an escape room, or anything else, you don't have to waste time waiting to get back to your favorite fun activities.
4. Get in the Swing of Spring with a Party Bike
Drink and pedal your way through Austin as you celebrate your new and improved vision with a party bike pub crawl! After LASIK, you won't have to worry about your glasses sliding down your face or your contacts drying out.
Instead, you can focus on having a great time with your friends and enjoying the impressive skyline with the clearest vision of your life. Take the party downtown and see plenty of murals and eye-catching signs, or bike along the river to enjoy panoramic views of the city above Lady Bird Lake.
Either way, you're sure to have hours of fun, no glasses or contacts needed.
5. Get Your Cuddle On at Austin's Only Cat Cafe
Do you suffer from allergies? Allergy season will have nothing on you after LASIK.
You are far from alone if you've struggled with pollen season and worsening symptoms. Many people face a vicious cycle of irritation when pollen gets into their contacts and then their eyes, only making that irritation worse.
It's the same story if you have pet allergies. After LASIK, you can look forward to improved allergy symptoms.
Take advantage of improved allergy symptoms without contact lenses by cuddling adorable cats at Purr-fecto Cat Lounge. With your improved vision, you'll be able to see each cat to its cutest potential.
6. Take a Hike up Mount Bonnell
As one of the highest points in Austin, Mount Bonnell is truly a sight to see. Wouldn't you rather see it without having to wear glasses or contacts?
LASIK makes hiking a breeze. Whether hiking, running, or doing any other physical activity, LASIK is ideal for active lifestyles.
You won't have to deal with annoying glasses slipping or moving around because of sweat. You also won't have to bring along expensive prescription sunglasses and worry about breaking them.
Instead, you'll have great vision that you'll be able to enjoy for years to come since LASIK is permanent.
7. Snag a Ticket to SXSW
South by Southwest is not only one of the most exciting events in Austin—it's one of the most exciting events in the world! Revel in the best of music, film and TV, comedy, and more. If you want to attend, there's one thing you need, other than a ticket: clear vision.
There are so many reasons to attend South by Southwest, and there are just as many reasons why LASIK is the most popular elective medical procedure you can undergo. It's no coincidence that LASIK has a 96% patient satisfaction rate, making it life-changing for those who qualify.
What are you waiting for? It's the perfect time to get LASIK!
Schedule your LASIK consultation at Dell Laser Consultants in Austin, TX, today to find out if LASIK is right for you.
---